Showroom interior designs are a vital part of displaying products that are best seen in action. Whether it's a kitchen, bathroom or even a car, a showroom allows shoppers to see the very best features of different products that can be difficult to appreciate outside of their usual setting.
Having the right showroom interior design is no easy task, as creating the overall design is a complex job that requires an expert eye for detail.
Ripple are specialist in interior showroom design, creating all types of showrooms — from kitchen or bathroom showroom design projects to car showroom design installations. But is a showroom worth the investment? Our team has all the details you need to find out, including:
What is a showroom design?
Why is showroom design important?
How Ripple can help transform your retail space
What is Showroom Design?
Showrooms are large spaces within a store that is often used to display and highlight high-ticket products for sale, creating the perfect opportunity to showcase a product or brand. These can range from cars to furniture, appliances to art, along with flooring and wall fixtures, what you intend to showcase is really down to you, although if you like, we can help you navigate, curate and promote you and your products from perhaps a perspective you hadn't considered before.
Interior showroom design, then, is the process of designing the interior of a room which is to function as a showroom. As you can imagine, certain products require certain considerations when designing a showroom – natural light, access to plugs, complementing colours etc.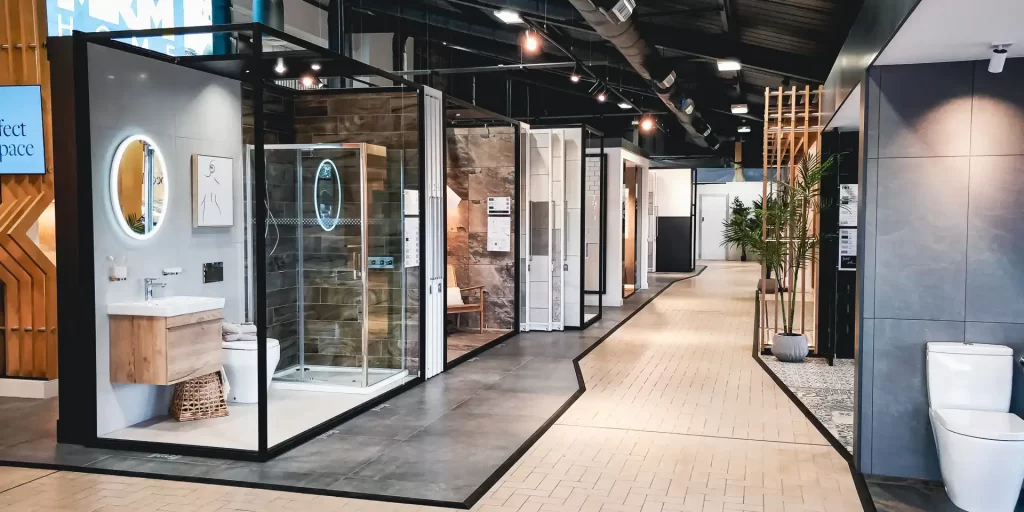 Why is Showroom Design Important?
Often interrupting the usual flow of a retail store, a showroom provides an opportunity for retailers to demonstrate the true value behind their products. But an expertly executed showroom interior design also has plenty more benefits for a business including:
1. Drives Sales
What's more impactful than being able to simulate owning the product right there in the store? A showroom offers shoppers the opportunity to try out the product as if it was their own, instilling a larger sense of confidence in their appreciation of the item. It also gives the chance for store owners to encourage shoppers to imagine what it may look like in their own home. Happy, confident shoppers are more likely to make a purchase. Showcasing your product and brand with confidence, creates shopping confidence and customer loyalty.
2. Makes Your Brand Stand Out
Every brand and retail store has a competitor – most usually have several to compete with. Offering similar products to you and handing out their own marketing efforts to try and catch the attention of shoppers.
To make your brand stand out against all of these competitors, use a showroom interior design to make a bold statement. Grab the attention of your competitors and shift over to the expertly designed showroom. It's hard to be forgettable when you have a showroom that delivers the intended impact for shoppers to explore, with your products and your brand at the centre of all the attention.
3. Establish Your Brand Identity
Brand awareness and familiarity is a fantastic way to remind shoppers what you stand for and what you have to offer, helping to generate more sales and ultimately, more profits.
If your brand identity has a stunning showroom interior design at the centre of it, shoppers will be drawn to the unique and exciting experience, and returning shoppers will want to find out what else you have to offer alongside it. You can also take the opportunity to reflect your brand's mission in the showroom, with branding colours and aesthetics being incorporated throughout the commercial interiors. It's an opportunity to explore and really deliver.
4. Aesthetics
It's no secret that every store on the high street is aiming for the most effective aesthetics that speak to its brand. By establishing brand identity through a retail interior design project such as a showroom, you can ensure your storefront is not just eye-catching, but beautiful to look at too. Enticing more shoppers to check out the products being featured and increasing the chances of another sale.
5. Guide the Customer Around Showcasing Products
Busy shelves and plenty of products can actually overwhelm customers and put them off from finding out more about the products themselves.
Instead, a showroom interior design can actually provide a retail environment that encourages them to spend more time focusing on individual products that they're interested in. An informed shopper is a shopper that is more likely to spend their money, so giving your customers the chance to be guided with a well-designed flow through a showroom is a great way to boost sales.
6. Influence Consumer Shopping Patterns
For some shoppers, their journey through a store will always remain the same, and can often mean your high ticket products are left out and not seen by enough people.
A showroom offers the chance for a retail store to influence consumer shopping patterns by subconsciously guiding them to check out the products the store is trying to sell. The value of this influence cannot be understated, as being able to place your shopper in front of your best products without them realising it holds tremendous value in sales.
7. Creates a Positive Store Atmosphere
No one wants to feel uncomfortable or uneasy in a store. If a customer doesn't feel happy in a store, this will then be reflected onto the products on the shelves and can harm their intent to make a purchase.
The overall layout and retail design can have a real impact on a shopper's emotions, so a well-balanced showroom interior design is a great way to emphasise the feeling of luxury, intentional design and the quality behind the products being presented.
How Ripple Can Help Transform Your Retail Space
At Ripple, our passion for creative retail solutions and interior retail design allows us to engage with brands throughout the design process and create retail interiors that reflect the brand identity and develop a retail experience that is one to remember.
Showroom interior design is one of our specialities, from kitchen showroom design and car showroom designs. We took one of our clients, MKM Home, from the beginning to the end of their project, putting their target customer at the centre of the design process.
The flagship showroom required a refresh and we created a layout that encouraged shoppers to spend more time in the store and spend more money as well. We developed a range of concepts and began working on the fixtures and fittings that were then installed by us to get MKM Home open and ready for business as soon as possible.
The end result is one we're incredibly proud of, and you can find out more about it here.
Get in Touch With Ripple Today
Ripple has a stellar reputation in the retail design industry and years of experience in designing, building and installing fantastic showroom environments for businesses and customers to enjoy.
It's thanks to our commitment and dedication to going above and beyond for every client that has led to this point. So get in touch with us today and arrange a free, no-obligation consultation to find out how we can generate more sales for your business today. You can also call 0161 624 8201 or send a message to info@ripple.co.uk.