Retailers across the world are beginning to consider collection lockers as part of their strategies to improve efficiency and add value to the customer experience. It's a great tactic, especially during the current climate, however up until now it's only been the big players that have been able to access this service for their customers, mainly due to the high investment costs and infrastructure changes required to successfully move towards a fully automated collection locker system.
One of the first brands to invest in collection lockers was unsurprisingly Amazon back in 2011 when they began introducing them to petrol stations, shopping centres, and stores, and you will have certainly noticed the shopping click and collection lockers at supermarkets such as ASDA and Tesco who weren't too far behind. Retailers are recognising the benefits of making products available without the need for customers to enter the store and being able to collect out of working hours.
At Ripple, we have been working closely with our client Dulux Decorator Centres (DDC) to develop a simpler, more adaptable version of the collection locker that does not require an intricate and costly automated system. We have focused the design around it being managed at the store level and using a method that ties in simply with their customer ordering process, via email, online or over the phone. It offers a simple and accessible solution to the 'click and collect' process which does not require significant investment or a process change, whilst still maintaining improved customer service at a low cost whilst supporting social distancing guidelines.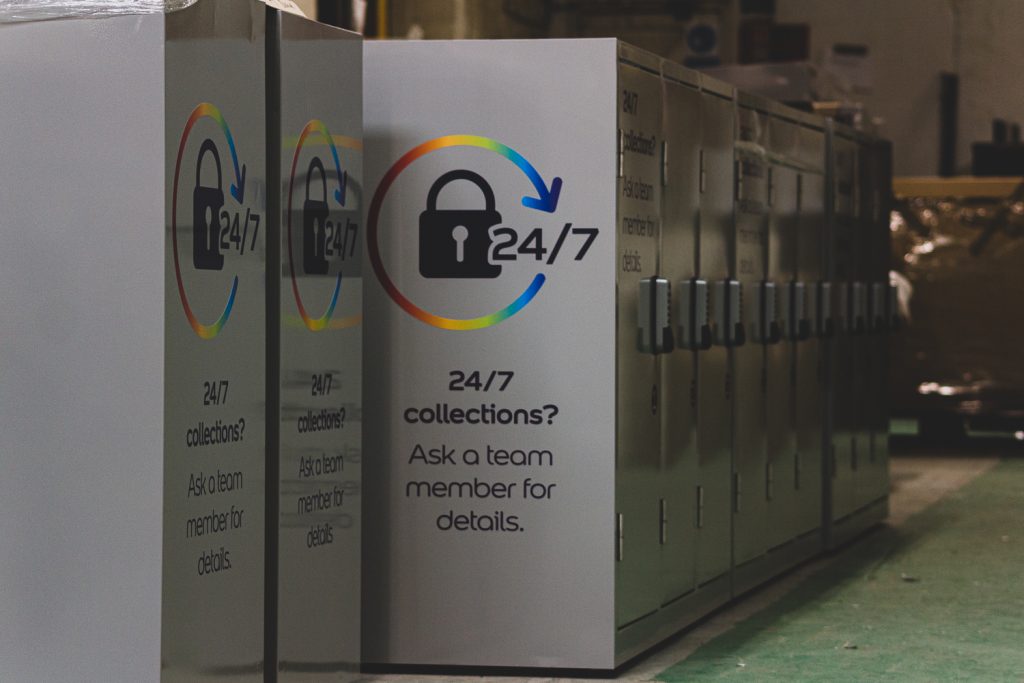 The DDC Collection Locker features a durable, tamperproof, steel construction with and exterior powder coat finish, so it can be securely positioned either indoors or outdoors and anchored in place. The lockers are secured with a digital locking system and a three-point bolting lock in each door, the pin codes for each locker are entirely managed at the store level and can be quickly reset and recoded by staff between collections.
You can read more about how DDC have implemented the Collection Lockers into their ordering process here: https://www.duluxdecoratorcentre.co.uk/collection-lockers
Would the Ripple Collection Locker be an asset to your business?
The DDC Collection Locker solution is one that translates well to other sectors, and Ripple are delighted to now offer the same tried and tested solution as a standard product for other retailers and merchants. These include but are otherwise identical: –
An adjustable shelf in each compartment.
Individual branding and graphics applied.
The option for remote allocation pin system.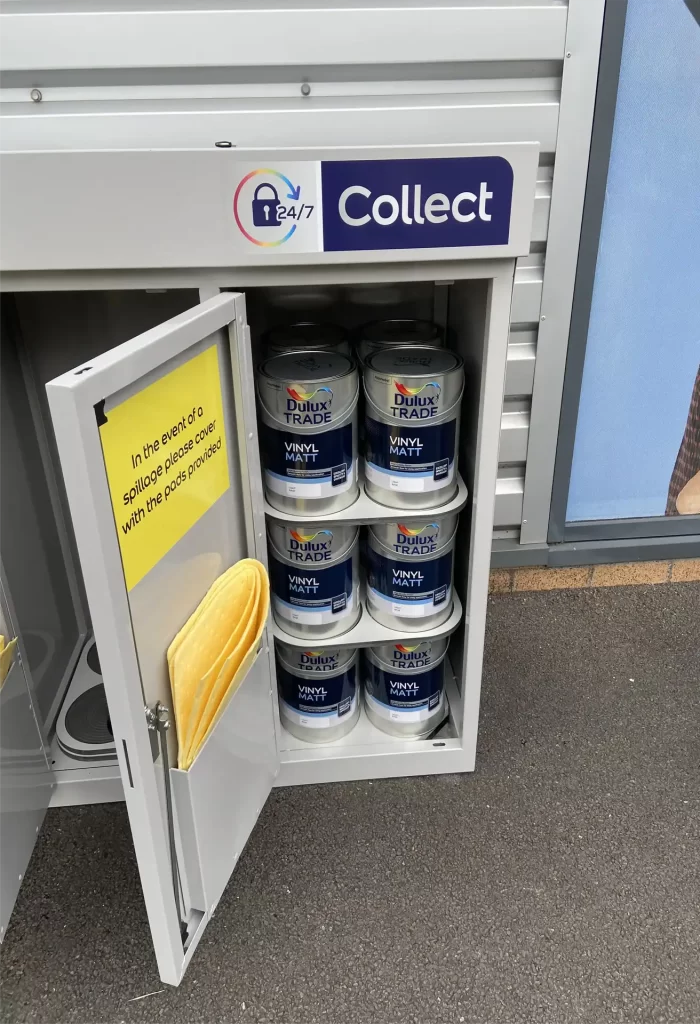 The Ripple Collection Locker makes offering contact-less collection services a reality for all businesses. Without the need for a costly automated system, this collection locker can either be manually opened and the pin reset at the unit using either a master code or physical key, alternatively, it can be controlled using the Remote Allocation System, which is a simple and secure web-based application, meaning that it's the perfect solution for businesses of all sizes.
Our standard format of collection locker has been designed with merchants and specialist retailers in mind where orders need to be collected swiftly, securely and at a time to suit the customer.
Each of the three lockers contains approximately 100 litres of storage and includes an optional, height-adjustable shelf. However, we appreciate that each business is different and bespoke sizes and configurations are available upon request.
How it Works
This versatile solution is developed to make it as easy as possible for your business to adopt and works particularly well when collection orders are managed at the store level. A customer can place their order as they normally would, either over the phone, by email or online, they can pay as normal too, either online, over the phone or by credit account. You can then agree on a timeslot with your customer and generate a unique pin either remotely using the Remote Allocation System (RAS), or manually at the unit for the order to be collected. Once collected you can either use your master pin, a physical key or RAS to access and reset the system, ready for the next order.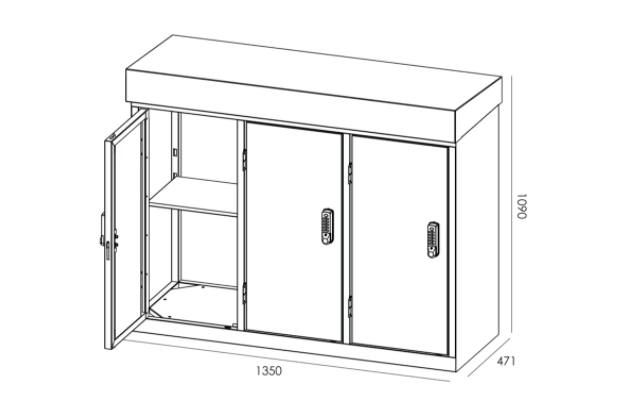 The standard unit is finished in a mid grey, although we can colour match to your brand or colour scheme, we also appreciate that you may require a different size or specification, please let us know what your preferences are and we can design a product that is unique to your business.
Why Choose Ripple & Ripple-Store?
We're industry-leading and award-winning designers and manufacturers of specialist retail interiors. Established over 35 years ago, our DNA is geared towards producing only the very best quality solutions, that promote sales and efficiency for retailers and businesses across the UK.
You can learn more about our collection lockers and other products at ripple-store.co.uk where they are available to order now, or if you would like to discuss a bespoke option, please contact the sales team: info@ripple.co.uk